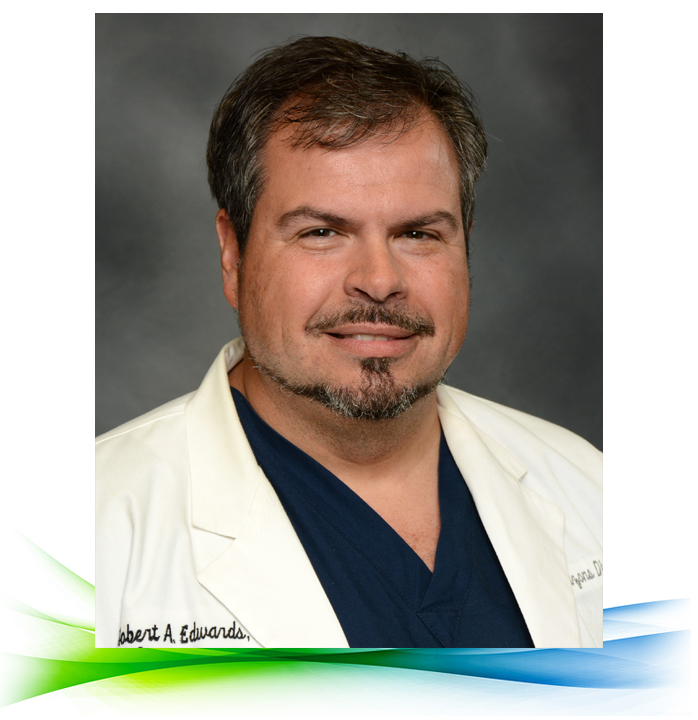 Robert A. Edwards, DO
Dr. Edwards is originally from Tampa, Florida. He graduated from the University of South Florida with a Bachelor of Science degree in Microbiology. Dr. Edwards then attended medical school at Nova Southeastern University, College of Osteopathic Medicine, and graduated with honors. He completed his general surgical residency and served as Chief Surgical Resident at Grandview Hospital in Dayton, Ohio. He has served as Chairman of the Department of Surgery at St. Francis Hospital in Columbus, Georgia.
Surgery
Dr. Edwards is board certified by the American Osteopathic Board of Surgery. His training includes advanced laparoscopic procedures, colorectal surgery, and trauma surgery. He also has special training in the treatment of breast cancer and has attended many courses in minimally invasive breast biopsy, MammoSite RTS therapy for breast cancer, radio-guided surgery, and sentinel lymph node dissection. Dr. Edwards also performs Colonoscopies and Colon Cancer Screenings. He performs surgery at local hospitals and in his office.
Surgeries Include
Colonoscopy Cancer Screening
Laparoscopic Surgery

Cholecystectomy (Gallbladder Removal)
Appendectomy (Appendix Removal)

Hernia Repair
Breast Surgery to include cancer treatment
Thyroid Surgery including Fine Needle Aspiration and Biopsy
Minimally Invasive Parathyroid Surgery (MIRP)
Cyst and Lipoma Excision Surgery
Vein Treatment
Dr. Edwards is board certified by the American Osteopathic Board of Surgery and is also a member of the American College of Phlebology. Dr. Edwards has been providing vein care in southwestern Georgia since 2006 and is the Director of the Center for Vein Care and Surgery of Horizons Diagnostics, LLC. Our vein center is accredited by the Intersocietal Commission for the Accreditation of Vascular Laboratories (ICAVL). Dr. Edwards is pleased to offer the Venefit® Closure Procedure (formerly VNUS Closure), an alternative treatment option to traditional vein stripping surgery of the legs. Over 3000 Closure procedures have been successfully performed with excellent results. The Closure procedure is a clinically proven, minimally invasive way to treat venous reflux, the underlying cause of varicose veins of the legs, with little or no pain. Closure patients can return to everyday activities within a day. The Closure procedure is performed in the doctors' office and is covered by most insurance providers. For more information on the Closure procedure please contact our office or send email to raedo@hdllc.org In addition, Sclerotherapy treatments are available to help resolve small unsightly spider veins.
Treatment Options
Venefit Closure Procedure
Spider Vein Treatment (Sclerotherapy)
Microplebectomy
Vein Surgery Before and After
Click to view larger images